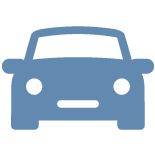 By A63 exit No. 4 Bidart, Biarritz airport.
After the exit of the toll, at the roundabout Barroilhet, take the direction Bidart is the 2nd exit. Go straight. At the roundabout of the supermarket Intermarché, take opposite the 2nd exit.
At the next roundabout, turn right direction Ilbarritz is the 1st exit. At the crossing, continue opposite in Avenue de Biarritz.
The campsite is located 200m on your left.